Re-Making the Past
Re-Making the Past was a project involving five makers with a shared interest in archaeology and prehistory. We were originally selected for participation in the CinBa research project [Creativity & Craft Production in Middle and Late Bronze Age Europe] led by the University of Southampton, with partners including the Crafts Council, Cambridge University and the National Museum of Denmark.
At the conclusion of CinBa we were successful in gaining funding from Arts Council England to continue our individual research, culminating with the touring exhibition Re-Making the Past at the Devon Guild of Craftsmen, which I co-curated with Saffron Wynne. My visual research took me to Orkney, realizing a long held ambition to visit Neolithic and Bronze Age sites including the Ness of Brodgar, Skara Brae and Stenness.
For the wall installation 'Far Distant, Close To' I made many drawings of the lichen shapes found on the stone structures that I visited. The resulting fragmented shapes also echo the contours of the island archipelago, and mirror the wider Bronze Age landscape. I also moved into a new territory of combining fired screen printed photographic transfers with layers of vitreous glass enamels on steel. Each individual laser cut shape is floated slightly away from the wall surface, casting shadows, and the whole installation can be changed and displayed in different configurations.
Field Days
Field Days was a project run by Artsreach, in partnership with Dorset AONB and the South Dorset Ridgeway Landscape Partnership Scheme. Individual artists were commissioned to respond to the archaeology, geology, history and environment of the South Dorset Ridgeway, to make the area better known both locally and for visitors.
I was drawn to the ancient earthworks of the Ridgeway, and in particular the finding of an Iron Age mirror near the village of Portesham, now on display in Dorchester Museum. Walking in the area, I also photographed sarsen stone trails in the nearby Valley of the Stones. In the wall installation 'Ceremonial' I wanted to bring these elements together, combining shapes derived from the mirror with imagery of enlarged sections and horizon glimpses of tumuli.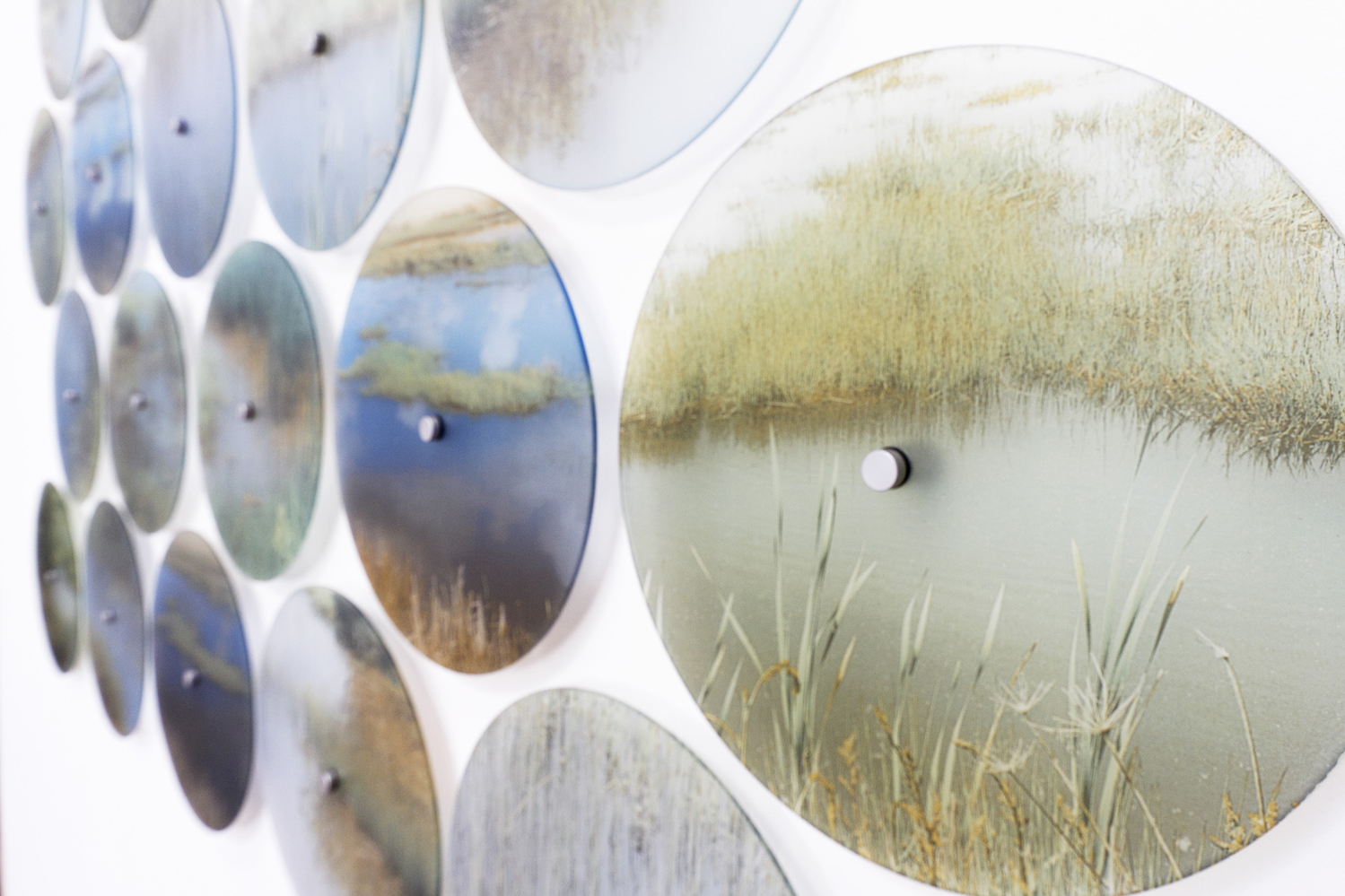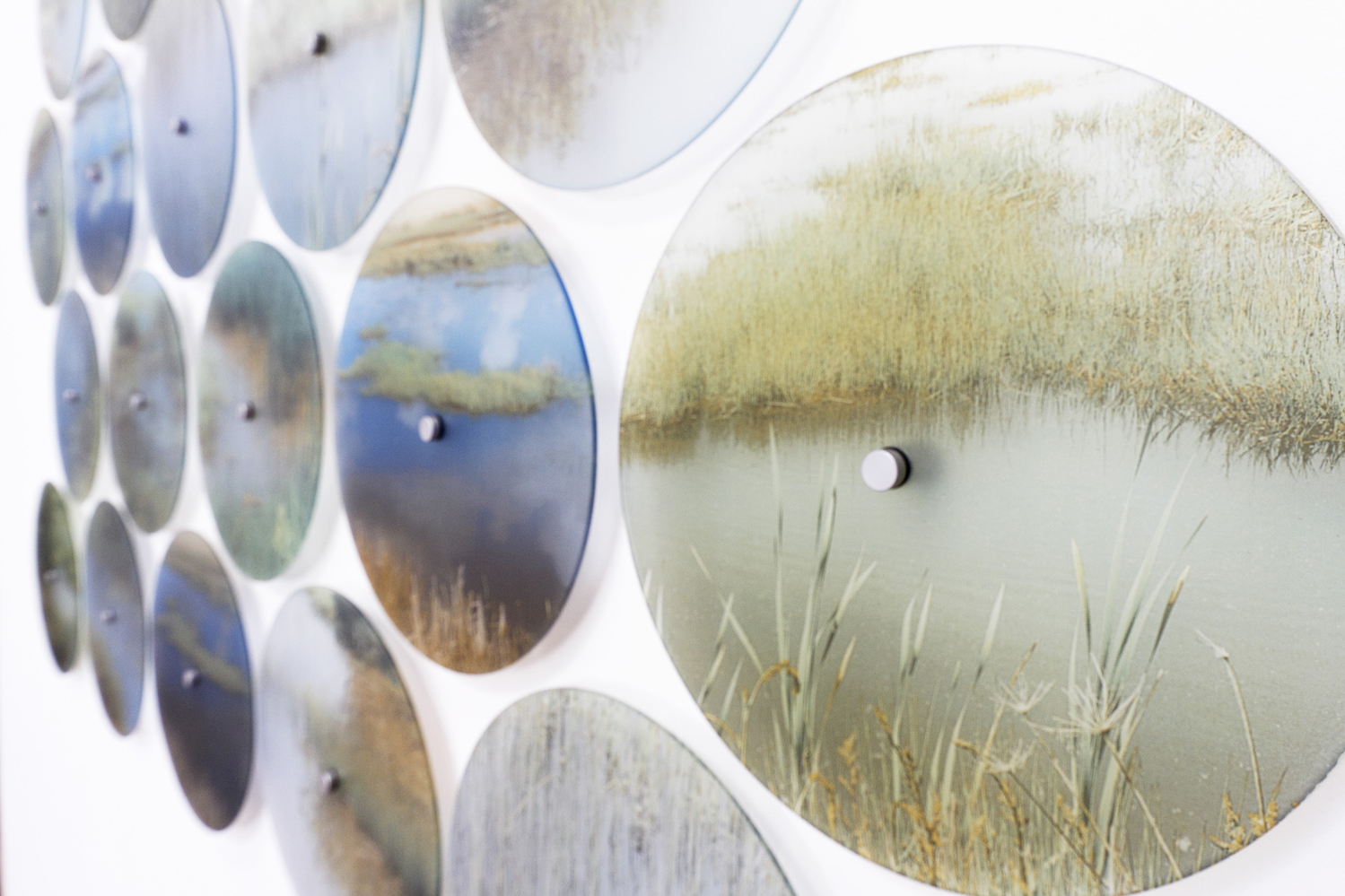 New Light on Newlyn
This exhibition was held at Plymouth City Art Gallery, in partnership with the Newlyn Society of Artists. Artists were asked to respond to the works of Newlyn School artists held in the archives at the Museum.
I decided to work from the same site, Marazion Marshes, that the painter John Noble Barlow had worked from a century before. Now an RSPB reserve, I made several visits to the marshes over four months, spring into summer. As my focus became closer, I was drawn into a particular area of reed beds, with constantly changing interaction between light, land, sky and water.
The resulting work, Time Lapse, freezes these moments in a series of fired glass discs, the images a distillation of my response to a painting of the same place made over 100 years ago.
[Private Collection]